It's goin' down tomorrow evening on BET!!!! Keyshia Cole & Family are back on the small screen so set your TiVo's. Click to view trailer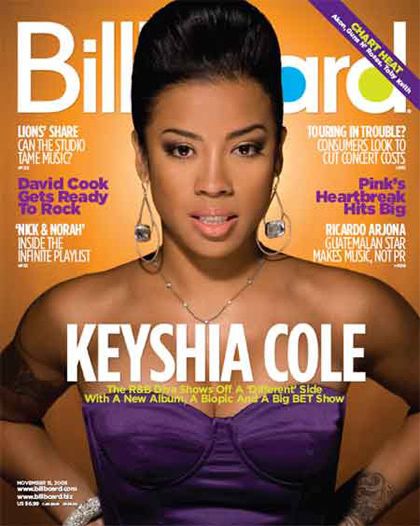 On Dec. 16 Imani/Geffen/Interscope will release her third album, "A Different Me," which will drop in the wake of the 360 deal Cole signed with Interscope that includes a movie based on her life.
The first two albums were more ... painful," she tells Billboard over lunch in Los Angeles. "It's a different me this time: a young woman who's still growing and finding myself, exploring life through different routes musically and in other areas. I wrote more about other people's situations than my own. I'm moving forward."
She has definitely come full circle since her show debuted on BET a few years ago. Keyshia has also been handling her business and trying her best to keep her family together.
I haven't reached my goal yet," says Cole, who says that down the road she wants to live in a log cabin and own horses, operate a veterinary hospital and pet store—"I'm a dog person," she adds—plus a coffee shop on the side. "I want that real bad. I can just see the couches and the fireplace going. "But to get there," she continues, "I have to first accomplish my musical goals. To quote Tupac, got my money right, I got my mind right, and now I want war.'
Okay..first she gets veneers and now it appears that "her sisters" are deflating....Git it Girl, going all hollywood and stuff.Gone girl do yo' thang! (Talk about controlling her brand, there is not one video of her reality show out there on the interwebs except the one we posted above). Read more of the article here.
CHOCOLATE NEWS BREAK: It has just been announced on 106 & Park that Keyshia Cole will be joining T-Pain (oh we said we weren't cover T-Pain news here) and Lil' Wayne on the "T-Wayne Tour".